The Classics Book Club has been set up since the launch of the General Education (GE) Foundation Programme in 2012. It aims to promote classics reading to undergraduate students and the wider campus community at CUHK. During its early years, the Classics Book Club primarily focused on organizing book talks and reading groups on classical texts selected from the two courses of the GE Foundation Programme. The Classics Book Club has then evolved to cover a wide range of classics from different disciplines, ranging from philosophy, literature, social science to computer engineering, medical science, and natural science. While most book talks and reading groups examined issues in particular classical text, such as The Analects and Plato's Symposium, some sessions surveyed key developments of a selected academic topic, such as contemporary astronomy, medieval magic, and flâneur in modern times, through reviewing prominent classical texts relating to the discipline. Speakers and moderators of talksand  reading groups are usually members of the teaching team of the GE Foundation Programme.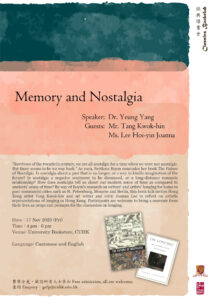 Speaker: Dr. YEUNG Yang
Guests: Mr. Tang Kwok-hin and Ms. Lee Hoi-yin Joanna
Moderator: Dr. LEUNG Cheuk Hang
Date: 17 / 11 / 2023 (Fri)
Time: 4 p.m. – 6 p.m.
Venue: University Bookstore, CUHK
In Cantonese and English
Synopsis
"Survivors of the twentieth century, we are all nostalgic for a time when we were not nostalgic. But there seems to be no way back." As such, Svetlana Boym concludes her book The Future of Nostalgia. Is nostalgia about a past that is no longer, or a way to kindle imagination of the future? Is nostalgia a negative sentiment to be dismissed, or a long-distance romantic relationship? How does nostalgia tell us about our modern sense of time as compared to ancients' sense of time? By way of Boym's research on writers' and artists' longing for home in post-communist cities such as St. Petersburg, Moscow and Berlin, this book talk invites Hong Kong artist Tang Kwok-hin and art writer and critic Joanna Lee to reflect on artistic representations of longing in Hong Kong. Participants are welcome to bring a souvenir from their lives as props and prompts for the discussion on longing.
Registration
CUHK students and staff:
https://webapp.itsc.cuhk.edu.hk/ras/restricted/event?id=81224
Alumni and public audience:
https://cloud.itsc.cuhk.edu.hk/webform/view.php?id=13676789
Free admission, all are welcome.
Enquiry: gefp@cuhk.edu.hk